Willem Hondius
Willem Hondius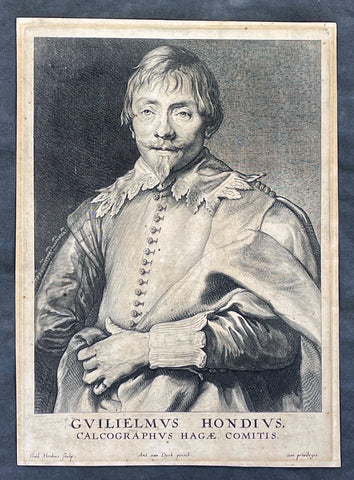 Title :

Guilielmus Hondius, Calcographus Hagae Comitis. Ant. van Dyck pinxit, Guil. Hondius sculp

Date :

1630-40

Size:

9 3/4in x 7in (250mm x 180mm)

Ref:  91420
Description:
This original copper-plate engraved antique print of Guillaume Hondius, was engraved by himself (Guillaume Hondius) after the famous Flemish painter Anthony van Dyck 1599 - 1641 as part of his Iconographie series of engraved portraits of famous people at the time, between 1630-40.

A wonderfully detailed and charismatic portrait, this exquisite work illustrates the technical mastery and artistic vision of Van Dyck. Guillaume Hondius' stately yet approachable expression reflects Van Dyck's refined ability to comfort and relax his subjects, resulting in a realistic and acute portrait. This piece is intriguing because the subject and the engraver are one and the same, yet the image essentially is still Van Dyck's. Guillaumine Hondius engraves himself through the eyes of Van Dyck, depicted with kind eyes, a broad nose, and a pointy chin. Hondius stands with a calm demeanor, holding up his elaborately draped garment with his left hand and gazing straight out at us.
General Definitions:
Paper thickness and quality: - Heavy and stable
Paper color : - off white
Age of map color: -
Colors used: -
General color appearance: -
Paper size: - 9 3/4in x 7in (250mm x 180mm)
Plate size: - 9 3/4in x 7in (250mm x 180mm)
Margins: - Min 1/2in (12mm)
Imperfections:
Margins: - Age toning
Plate area: - Age toning
Verso: - Dark age toning
Background:
Anthony van Dyck (also spelled van Dyke) was a renowned Flemish Baroque painter born on March 22, 1599, in Antwerp, Belgium, and died on December 9, 1641, in London, England. He is widely regarded as one of the most influential portrait painters of his time, known for his elegant and refined style.

Van Dyck showed great artistic talent from a young age and began his artistic training under the guidance of Hendrick van Balen, a local painter in Antwerp. Recognizing his potential, his parents enrolled him as an apprentice with Peter Paul Rubens, the leading Flemish painter of the time. Van Dyck spent six years in Rubens' studio, absorbing the master's techniques and developing his own skills.

By the age of 19, van Dyck had already established himself as an accomplished artist and was admitted as a master to the Antwerp Guild of Saint Luke. He primarily focused on religious and mythological subjects during his early years, reflecting the influence of Rubens' style. However, van Dyck soon turned his attention to portraiture, a genre that would bring him great success and recognition.

In the early 1620s, van Dyck traveled to Italy, where he spent several years studying the works of Italian Renaissance masters such as Titian and Tintoretto. This period of Italian sojourn greatly influenced his artistic style, leading to a refinement and sophistication in his portraiture. He became particularly renowned for his ability to capture the personality and character of his sitters, employing a sensitive and flattering approach.

Upon his return to Antwerp in 1627, van Dyck's reputation as a portraitist had grown significantly, attracting commissions from aristocrats, nobles, and prominent figures of the time. His portraits exuded a sense of grandeur and elegance, often featuring his subjects in elaborate costumes and settings. Van Dyck's remarkable talent for capturing the likeness and personality of his sitters earned him patrons and clients across Europe.

In 1632, van Dyck was invited to England by King Charles I, who had heard of his remarkable skill as a portrait painter. He was appointed as the court artist and granted a knighthood, becoming Sir Anthony van Dyck. During his time in England, van Dyck produced numerous portraits of the royal family, aristocracy, and influential figures of the British court. His ability to convey grace, poise, and nobility in his subjects revolutionized the art of portraiture in England.

Van Dyck's impact on English art was profound, and he played a crucial role in elevating the status of portrait painting within the art world. His influence extended beyond his lifetime, as many English portraitists were inspired by his style and approach. Van Dyck's legacy can be seen in the works of later artists such as Thomas Gainsborough, Joshua Reynolds, and Thomas Lawrence.

Despite his success, van Dyck's life was plagued by financial troubles and personal difficulties. He led a lavish lifestyle and accumulated significant debts, which he struggled to repay. Moreover, his health deteriorated in his later years, possibly due to the strain of his extensive work. Van Dyck passed away in London at the age of 42, leaving behind a rich artistic legacy.

Anthony van Dyck's mastery of portraiture, characterized by his skillful rendering of his subjects' individuality and his elegant style, has made him one of the most celebrated painters in art history. His works continue to be admired and studied, serving as a testament to his enduring influence and artistic brilliance.
Hondius, Guillaume or Willem (1598/9 - 1658/60)
Willem Hondius was one of seven children of Hendrik Hondius the Elder (1573 – c. 1649) and Sara Jansdochter. His father was one of the most important Dutch reproductive printmakers and publishers in the early 17th century. A connection with the Hondius family of cartographers in Amsterdam is possible but has not been established.
In 1636 Willem visited Danzig in Poland. In 1641 he moved there from The Hague for good. Hondius was supported at the royal court of King Władysław IV Waza. The King awarded him the title of Chalcographus privilegialus (privileged engraver) and Chalcographus Regius (Royal engraver).
He was married twice, first in 1632 in The Hague to Kornelia van den Enden, secondly in 1646 in Danzig to Anna Mackensen, daughter of the Royal Goldsmith.
In August 1651, in the wake of the Khmelnytsky Uprising, Hondius joined the army of Janusz Radziwiłł conquering Kiev. The first ever portrait of the famous Cossack leader Bohdan Khmelnytsky was engraved during this campaign.
Nothing is known of Hondius after 1652, though he may have lived until 1658.