Globes
Globes (2)
Title : Globe Terrestre J Lebegue & Cie Editeurs 36 Rue Nenve, 36 Bruxelles
Size:

12in (305mm) Diameter Globe/Standing 21in (530mm)

Date :

1880s

Ref #:  30072
Description:
This fantastic original antique 12in (305mm) Diameter Desk Globe, standing 21in (530mm), was made by the French Publishing Company of Alphonse & Jules Lebegue, Belgium & Paris in the 1880s.
Globes that have survived are rare, as most globes constructed in history have either been damaged or literally thrown away. The globe itself has sustained some damage but is overall stable and sturdy. The wooden stand along with the globe brass ring are in excellent condition. The specific damage to the globe is:
- Dent and damage between Indonesia and Japan
- Dent and damage off the coast of western South America
- Small dent in mid Pacific
- Light abrasion at north Pole
- Overall browning.
But even with the above this is a wonderful piece of cartographic history.

Total Dimensions;
Globe Diameter: 12in (305mm
Standing Complete: 21in (530mm)
Width of Stand: 19in (480mm)
Weight: 5.5kg
General Definitions:
Paper thickness and quality: - Heavy and stable
Paper color : - off white
Age of map color: - Original
Colors used: - Yellow, green, blue, pink
General color appearance: - Authentic
Paper size: - 12in (305mm) Diameter Globe/Standing 21in (530mm)
Plate size: - 12in (305mm) Diameter Globe/Standing 21in (530mm)
Margins: - Min 1/2in (12mm)
Imperfections:
Margins: - Please see description above
Plate area: - Please see description above
Verso: - Please see description above
Background: 
A globe is a spherical model of Earth, of some other celestial body, or of the celestial sphere. Globes serve similar purposes to maps, but unlike maps, do not distort the surface that they portray except to scale it down. A globe of Earth is called a terrestrial globe. A globe of the celestial sphere is called a celestial globe.
A globe shows details of its subject. A terrestrial globe shows land masses and water bodies. It might show nations and prominent cities and the network of latitude and longitude lines. Some have raised relief to show mountains. A celestial globe shows stars, and may also show positions of other prominent astronomical objects. Typically it will also divide the celestial sphere up into constellations.
The word globe comes from the Latin word globus, meaning sphere. Globes have a long history. The first known mention of a globe is from Strabo, describing the Globe of Crates from about 150 BC. The oldest surviving terrestrial globe is the Erdapfel, wrought by Martin Behaim in 1492. The oldest surviving celestial globe sits atop the Farnese Atlas, carved in the 2nd century Roman Empire.
The sphericity of the Earth was established by Greek astronomy in the 3rd century BC, and the earliest terrestrial globe appeared from that period. The earliest known example is the one constructed by Crates of Mallus in Cilicia (now Çukurova in modern-day Turkey), in the mid-2nd century BC.
No terrestrial globes from Antiquity or the Middle Ages have survived. An example of a surviving celestial globe is part of a Hellenistic sculpture, called the Farnese Atlas, surviving in a 2nd-century AD Roman copy in the Naples Archaeological Museum, Italy.
Early terrestrial globes depicting the entirety of the Old World were constructed in the Islamic world. According to David Woodward, one such example was the terrestrial globe introduced to Beijing by the Persian astronomer, Jamal ad-Din, in 1267.
The earliest extant terrestrial globe was made in 1492 by Martin Behaim (1459–1537) with help from the painter Georg Glockendon. Behaim was a German mapmaker, navigator, and merchant. Working in Nuremberg, Germany, he called his globe the Nürnberg Terrestrial Globe. It is now known as the Erdapfel. Before constructing the globe, Behaim had traveled extensively. He sojourned in Lisbon from 1480, developing commercial interests and mingling with explorers and scientists. In 1485–1486, he sailed with Portuguese explorer Diogo Cão to the coast of West Africa. He began to construct his globe after his return to Nürnberg in 1490.
Another early globe, the Hunt–Lenox Globe, ca. 1510, is thought to be the source of the phrase Hic Sunt Dracones, or Here be dragons. A similar grapefruit-sized globe made from two halves of an ostrich egg was found in 2012 and is believed to date from 1504. It may be the oldest globe to show the New World. Stefaan Missine, who analyzed the globe for the Washington Map Society journal Portolan, said it was part of an important European collection for decades. After a year of research in which he consulted many experts, Missine concluded the Hunt–Lenox Globe was a copper cast of the egg globe.
A facsimile globe showing America was made by Martin Waldseemueller in 1507. Another remarkably modern-looking terrestrial globe of the Earth was constructed by Taqi al-Din at the Constantinople Observatory of Taqi ad-Din during the 1570s.
The worlds first seamless celestial globe was built by Mughal scientists under the patronage of Jahangir.
In the 1800s small pocket globes (less than 3 inches) were status symbols for gentlemen and educational toys for rich children.
Traditionally, globes were manufactured by gluing a printed paper map onto a sphere, often made from wood.
The most common type has long, thin gores (strips) of paper that narrow to a point at the poles, small disks cover over the inevitable irregularities at these points. The more gores there are, the less stretching and crumpling is required to make the paper map fit the sphere. This method of globe making was illustrated in 1802 in an engraving in The English Encyclopedia by George Kearsley .
Modern globes are often made from thermoplastic. Flat, plastic disks are printed with a distorted map of one of the Earths Hemispheres. This is placed in a machine which molds the disk into a hemispherical shape. The hemisphere is united with its opposite counterpart to form a complete globe.
Usually a globe is mounted so that its spin axis is 23.5° from vertical, which is the angle the Earths spin axis deviates from perpendicular to the plane of its orbit. This mounting makes it easy to visualize how seasons change.
Lebegue, Alphonse Nicolas 1814 - 1885
Jules Lebegue (son)
Lebègue was a publisher of maps, plans as well as terrestrial and celestial globes, in Paris & Brussels. He was born in Paris in 1814 & died on December 12th 1885 in Brussels. He was the son of the Parisian printer and bookseller Jean Lebègue, with business on the Rue des Noyers, Paris.
In 1854 he established a printing press and publishing house in Brussels, Belgium and becoming A. N. Lebegue and C (ie), becoming one of the best-known publishing houses in the Belgian capital. His business launched a weekly newspaper in 1858, with an Advertising Office that became one of the most popular organs of the local Liberal Partywhile specialising in the works of Pierre Joseph Proudhon . At this time, Lebègue expanded his publishing business into maps, plans and globes. Beside his publishing business, Lebègue wrote several books, often novels of a historical nature and during the second empire, became close to the French publisher Hetzel
Alphonse was the uncle to both Alphonse-Nicolas Lebègue (1856-1938) the French paleographer and Ernest Lebègue (1862-1943) the French historian. He died on December 12, 1885 in Brussels, leaving his business to his son Jules Lebègue.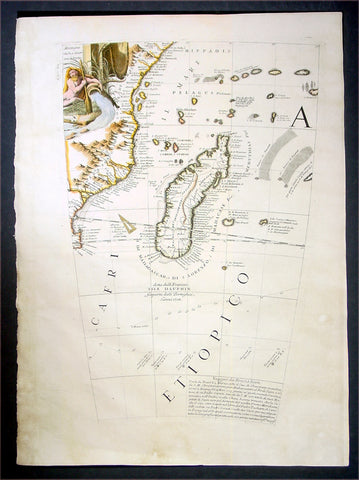 Title : 

Cafri Etiopico

Date :

1696
Ref:  30781
Size: 19 1/2in x 14in (495mm x 355mm)
Description:
This is a rare opportunity to acquire one of the hand coloured original antique Globe Gores of Madagascar & SE Africa by Vincenzo Coronelli published in 1696. 
The copper-plates for these gores were originally engraved in 1688 by Coronelli for the construction of the large 42in (110cm) terrestrial globe. 
In 1696 Coronelli published all his gores - from the 2in to the 42 in - in an atlas,  Libero dei Globi, part of the great series of atlases,Atlante Veneto. Libero dei Globi was published by Coronelli to ensure his work was available to a wider audience, as very few could afford travel to Venice, Rome or Paris to view his completed globes.
Background: 
In the early 1680's Vincenzo Coronelli constructed two vast 15ft diameter terrestrial & celestial globes for Louis XIV of France. These were meticulously hand drawn & engraved. Such was the admiration of these Globes that in 1688 Coronelli began the engraving & publication of Globe Gores for the construction of two 110cm (42in) terrestrial & celestial globes. 
Coronellis claim to have produced the best globes of any age was exemplified by the high demand and purchase of the globes by various institutions & cities within Europe. Yet many scholars still did not have the opportunity to visit Paris, London, Rome or Venice to view them and so Coronelli devised his famous atlas Libero dei Globi the first atlas of globe gores ever produced. The Libroformed part of a great series of atlases by Coronelli, the Atlante Veneto, in which Coronelli was able to combine the two cartographic art forms in which he excelled, maps & globes. 
The engraving of the gores was of the highest standard with neat contrasting lettering and five large cartouches of a singular grace and elegance. One cartouche situated below Australia carries a portrait of the author and Pope Alexander VI. 
Some of the more interesting features contained within the Gores are the recording of recent French explorations in North America, such as La Salles journey to the mouth of the Mississippi in 1681-87 & the French possessions within North America. Elsewhere the Caspian Sea is drawn closer to its modern shape, the Nile in Africa is shown without its fictitious source and the Blue Nile is shown correctly from a large lake in Ethiopia. The tracks of Le Maire crossing of the Pacific in 1616 are marked, as is the voyage of Chaumont to Siam in 1685-6. There are an unusual number of legends, all explanatory and informative along with many vignettes of ships and fishing scenes throughout the globe. 

Coronelli was one of the finest engravers & cartographers of any era, producing some of the most stunning work ever seen. These Globe Gores are no exception. Coronelli was a master craftsman with an eye for detail. You can feel the uncompromising accuracy & passion in his work when you study his maps & globes. 
These globe gores are scarce, with only a few sales records from the last 25 years. Similarly there is very little choice currently on the market. This scarcity ensures ongoing value and future appreciation. (Ref: Shirley 538; Tooley; Dr. Helen Wallis The Map Collector Dec 1980;Armao, Ermanno. Vincenzo Coronelli Cenni sull'uomo e la sua Vita Catalogo... Bibliopolis, Florence pp.130-134)
General Description:
Paper thickness and quality: - Heavy and stable
Paper color: - white
Age of map color: - Early
Colors used: - Yellow, green, blue  
General color appearance: - Authentic
Paper size: - 19 1/2in x 14in (495mm x 355mm)
Plate size: - 19in x 11 1/2in (485mm x 290mm)  
Margins: - min. 1/2in (12mm)

Imperfections:
Margins: - Light age toning
Plate area: - None
Verso: - None