Hungary
Maps (1)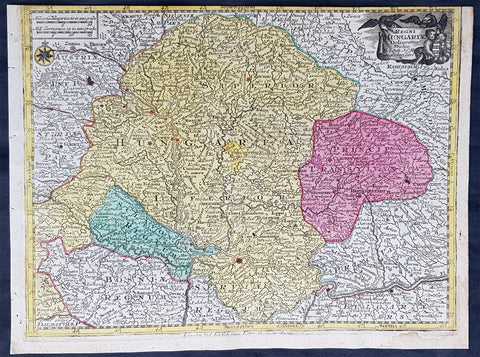 Title : Regni Hungariae........a Matth. Seutteri...T C Lotter, Geogr.
Ref #:  93399
Size:

11in x 8 1/2in (280mm x 215mm)

Date :

1744
Description:
This beautifully hand coloured original copper-plate engraved antique map of the Hungarian Empire was engraved by Tobias Lotter and was published in the 1744 edition of GM Seutters Atlas Minor Prae cipua Orbis Terrarum Imperia Regna et Provincias...., Augsburg, Germany.
General Definitions:
Paper thickness and quality: - Heavy and stable
Paper color : - off white
Age of map color: - Original
Colors used: - Yellow, green, blue, pink
General color appearance: - Authentic
Paper size: - 11in x 8 1/2in (280mm x 215mm)
Plate size: - 10 1/2in x 8in (265mm x 205mm)
Margins: - Min 1/4in (5mm)
Imperfections:
Margins: - Top margin cropped into border
Plate area: - None
Verso: - None
Background:
Atlas Minor was a series of beautiful maps of all parts of the world. Georg Matthäus Seutter was one of the most and important of the German cartographers of the 18th century, being appointed as the Geographer to the Imperial Court. His son, Albrecht Carl, joined Matthäus and eventually inherited the business. The maps from Atlas Minor were drawn by the two Seutters and engraved by Tobias Conrad Lotte. These maps are highly detailed and engraved with a bold hand with equally strong original hand color in the body of the map as was the 18th century German style. The cartouches were left uncolored in order to emphasize the elaborately detailed illustrations for which German maps are especially prized. These are some of the most decorative and interesting maps of the eighteenth century.