George Louis Le Rouge

George Louis Le Rouge (fl. 1740-80)
Profile :
A military engineer by profession, le Rouge took up cartography and over a long period from about 1740 to 1780 produced many attractive works covering a wide range of subjects including plans of fortifications, military campaigns, town plans as well as the more usual atlases and sea charts
George Louis Le Rouge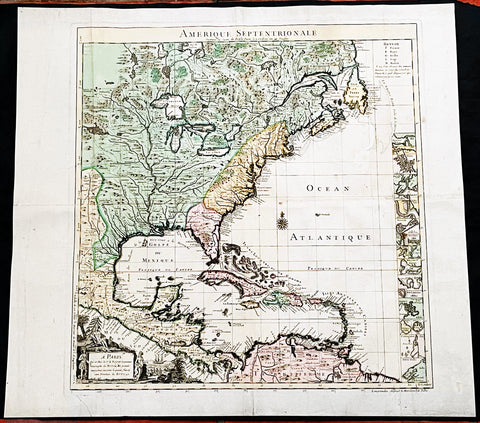 Title :

Amerique Septentrionale Suivant la Carte de Pople....A Paris....Le Rouge...1742

Date :

16742

Size:

24 1/2in x 22 1/2in (625mm x 570mm)

Ref:  27093
Description:
This incredibly important, original hand coloured copper plate engraved antique map of North America by George Le Rouge, after Henry Popples famous North America map, was published in 1742 - dated.

A handsome key sheet from a French edition of the first large-scale map of colonial North America. Among the 18 inset maps along the right border are ones of Bermuda, Boston, New York City, and Charleston. Popple's original, 1733 map ran to 20 sheets, hence the necessity of a key sheet. It was a semi-official undertaking intended to depict for British colonial administrators the respective North American territories of England, France and Spain. This French-published version, as expected, greatly exaggerates French territory at the expense of both England and Spain.
General Definitions:
Paper thickness and quality: - Heavy and stable
Paper color : - off white
Age of map color: - Original & later
Colors used: - Yellow, green, blue, pink
General color appearance: - Authentic
Paper size: - 24 1/2in x 22 1/2in (625mm x 570mm)
Plate size: - 20 3/4in x 19 3/4in (525mm x 500mm)
Margins: - Min 1in (30mm)
Imperfections:
Margins: - Light creasing along margins
Plate area: - Light creasing
Verso: - Re-enforced along centerfold
Background:
In 1730, the English Board of Trade & Plantations issued a request for maps of the British, French, and Spanish territorial claims in the New World, as ongoing boundary conflicts hindered economic development in the colonies. A former employee, Henry Popple, created an incredible 20-sheet map first published in 1733 that covered a broad region between Hudson Bay and the northern coast of South America and inland as far as the Rio Grande. It would become tremendously influential diplomatically as disputes among European powers increased dramatically in subsequent decades.
Accompanying the monumental production was a keymap, seen here as a later French edition issued by Georges Louis Le Rouge in 1742. With the exception of the language, decorative elements, annotations, and a missing vignette in the upper left corner, the image is largely the same as the original. It's surprisingly accurate, as Popple was studious in his use of the latest available sources, though several geographic features have been enlarged or distorted and a large mysterious lake filled with islands appears near the western edge of the sheet.
It's likely this is a remnant of the great saline sea speculated by Baron Lahontan, a French military officer who traveled extensively throughout the Great Lakes region from 1684 -1689. He later wrote several popular travel volumes that included reports of a Long (or Longue) River that branched from the Missippi westward, eventually reaching a large salt lake at the foot of a mountain range. The geographic influences of his story would be reflected in subsequent cartographic efforts throughout the 18th and into the early 19th century, and speculation on Lahontan's travels persists to this day.
Elsewhere in the image, the topography is depicted pictorially and shows a prominent Appalachian Mountain range as well as a curious plateau in Michigan that Lewis Karpinski describes as a "fanciful creation." Native American and European settlements are identified throughout and geographic features are labeled according to the key in the upper right. Seventeen inset plans of prominent port cities and islands can be seen in the lower right; including Boston, Charleston, New York, St. Augustine, Havana, and Cartagena.
Popple, Henry 1680 - 1743
Henry Popple was a British cartographer active in the early part of the 18th century. Popple was a clerk with the Board of Trade and Plantations, the organization that governed Britain's colonies in America. With his father, grandfather, and brother all being employed the board of trade, the Popple family had a long history of association with the British colonial administration. Popple received his commission as a clerk at the board of trade in 1727, but resigned in the same year. Curiously this is the same year he began work on his signature production, the Popple of North America, he resigned from the board to take a position as the Cashier to Queen Anne. Nonetheless he continued to work on his great maps and a manuscript version of the Popple Map appeared in this very year. Subsequently, Popple continued to update and refine the map until 1733 when it was finally printed. The Board of trade intended the Popple map to be a British response to Delisle's French mapping of North America, which presented boundaries that conflicted with British colonial ambitions. However, since Popple in fact based much of his map on Delisle's superior cartography, he also managed to copy many of the French political boundaries - to the detriment of the Board of Trade and its expansionist intentions. Although Popple's map was never approved by the Board, examples were rushed to each colonial governor and the map played a significant role in the cartographic history of North America. Popple cartographic endeavor began and ended with this singular map however, it significance was such that he must be considered in any list of significant British mapmakers.

George Louis Le Rouge fl. 1740-80
A military engineer by profession, le Rouge took up cartography and over a long period from about 1740 to 1780 produced many attractive works covering a wide range of subjects including plans of fortifications, military campaigns, town plans as well as the more usual atlases and sea charts.