Abraham & Pieter Goos

Abraham Goos fl. 1614-43; Pieter Goos (son) c. 1615 -75
Abraham and Pieter Goos were Dutch cartographers who were active during the late 16th and early 17th centuries. Abraham Goos was born in 1590, and his brother Pieter was born in 1616. Abraham started his career as an engraver, but he later shifted his focus to cartography. He published several maps and atlases, including a maritime atlas titled "De Zee-Atlas Ofte Water-Weereld," which was first published in 1666.
Pieter Goos continued the family tradition of cartography and also became a publisher. He published maps and sea charts, including a famous sea atlas called "Zee-Atlas Ofte Water-Werelt," which was first published in 1669. Pieter's works were highly regarded for their accuracy and detail, and they were widely used by Dutch merchants and navigators.
The Goos brothers collaborated on several maps and atlases, and their works were known for their detailed depictions of coastlines, harbors, and other geographic features. Their maps were also highly decorative, featuring ornate cartouches, sea monsters, and sailing ships. Their works were widely distributed and were influential in the development of Dutch cartography during the Golden Age of Dutch exploration and trade.
1650-85 De Lichtende Columne ofte Zee-Spiegel De Nieuwe Groote Zee-Spiegel The Lightning Colomne or Sea Mirrour Lightning Co/om of the Midland Sea Legrand & Nouveau Miroir ou Flambeau de la MerParts I, II and III issued in manv editions in Dutch, English and French 1675 Part V: West Indies and American seaboard: 33 charts compiled by Arent Roggeveen for his Het Brandende Ween (The Burning Fen) Part 1c. 1685 Part IV: Atlantic Coasts of Africa: charts by Arent Roggeveen for Part II of the above work. Published by J. Robijn 
1666-83 De Zee Atlas ofte Water- Weereld 41-44 maps in about 11 editions1666-73 L'Atlas de Ia Mer ou Monde Aquatique 5 editions 1667-70 Sea Atlas or the Water World 5 editions 1668-76 El Atlas de la Mar 0 Mundo de Agua 2 editions.
Abraham & Pieter Goos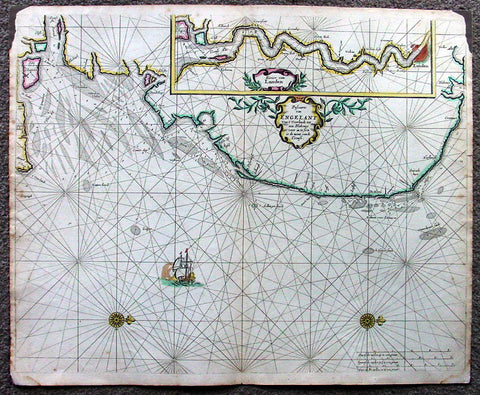 Title : Pascaarte van Engelant van t' Voorlandt tot aen Blakeney waer in te Sien is de Mont vande Teemse
Date :

1676
Ref:  42012
Size: 22in x 18in (560mm x 455mm)
Description: 
This large, beautifully hand coloured original antique map, a fine early Dutch sea chart of the Thames River and surrounding English coastline, was published by Pieter Goos in 1676 for the Goos De Zee-Atlas, Ofte Water-Weereld, Atlas. 
This chart is oriented with north to the right includes in the upper right is a large inset of the Thames River and plan of London. Beautifully engraved with original coulouring embellished with rhumb lines, two compass roses and a galleon under sail. (Ref: Tooley; M&B; Koeman)
General Description:
Paper thickness and quality: - Heavy and stable
Paper color: - off white
Age of map color: - Original 
Colors used: - Yellow, green, red, rose madder, red
General color appearance: - Authentic and fresh
Paper size: - 22in x 18in (560mm x 455mm)
Plate size: - 22in x 18in (560mm x 455mm)
Margins: - Min ½in (12mm)
Imperfections:
Margins: - Top L&R margin corner ink spill not affecting image
Plate area: - None
Verso: - Light soiling