19TH CENTURY
19TH CENTURY (1)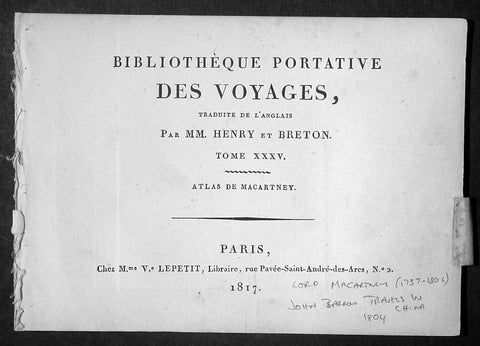 Title: Bibliotheque Portative Des Voyages Traduite De L Anglais Par MM. Henry et Breton Tome XXV - 1817
Date: 1817
Condition: (A+) Fine Condition
Ref : MACTP
Size: 8vo
Description:
This fine original antique French edition Atlas of the travels of Ambassador Lord Macartney travels in China between 1792 & 1794 was translated and published in Paris by M Henry & Breton in the 1817 - dated - edition of Biblio Portative Des Voyages Traduite De L Anglais Par MM. Henry et Breton Tome XXXV (Portable Travel Library. Translated from the English by MM Henry and Breton Volume 35)
 General Description:
Paper thickness and quality: - Heavy and stable
Paper color: - off white
Age of map color: - 
Colors used: - 
General color appearance: - 
Page size: - 7in x 5in (180mm x 125mm)

Imperfections:
Margins: - Light age toning
Plate area: - None
Verso: - None
The atlas covers have been removed with front title page Pages are generally clean with light aging to borders, overall VG, 8vo, each page size is 7in x 5in (180mm x 125mm) 
This atlas contains 22 B&W copper-plate engraved prints, listed below.
1. Lord Macartney
2. Arbe a pain de Singe (Monkey Tree)
3. Feuille de Nopal avec Cochenille qui s y Nourit
4. Barque Cochinchinoise (Chinese Barge)
5. Mandarin de Curon
6. Insects qui produisent la Cire de la Cochinchine (Insects that produce the wax of the Cochin China)
7. Maniere de lever les Filets (Net fishing)
8. Pieds des Dames Chinoisec (feet of Chinese Ladies)
9. Chaise a Porteurs (Chair Porters)
10. Maniere de transporter les Fardeaux (Carrying freight)
12. Vue de la Grande Muraille de la Chinese (Great Wall of China)
13. Portrait de l Empereur Cohien Long
14. Bourse et Sceptre de L Empereur (Money & Sceptre of Emperor)
15. Fondateur de l Empire Chinois (Founder of Chinese Empire)
16. Maniere de elever L Eau (Water irrigation)
17. Charrue Chinoise (Plough)
18. Pecheurs portant leur canot et les Oiseaux avec les quels ils prennent le poisson (Using ducks to catch fish)
19. Maniere de degager le Riz de sa pellicule (Rice farming)
20. Cha-wha ou Camellia sesanqua (Camilla flower)
21. Pompe a Chaine (Irrigation)
22. Grotte du Camoens... 
Sir George, Earl Macartney, was born at Lissanoure, in the northern part of the County of Antrim, 14th May 1737. Having passed through Trinity College, he entered the Middle Temple, made an extended tour of Europe (becoming acquainted with Rousseau and other persons of eminence), and shortly after his return home in 1764, was, through an intimacy with Lord Holland, appointed a special envoy to negotiate a commercial treaty with Russia. His biographer says: "His knowledge of European politics alone fitted him for the undertaking; but a graceful person, with great suavity of manners, a conciliating disposition, and winning address, were considered as no slight recommendations at a female court, where such accomplishments, it was fair to conclude, might work their way, when great and unaccommodating talents alone would prove ineffectual."
From September 1792 to September 1794, he spent abroad as ambassador to China. The country was then little known, and Lord Macartney's published account of his embassy long continued the standard book of information on Chinese matters. Commenting on his mission, a writer says: "The amount of the benefit gained by this first diplomatic communication on the part of England with the Court of Pekin has been matter of dispute; but it is generally agreed that no other person could have accomplished more than was done by Lord MaCartney, whose conduct at least was well calculated to impress the subjects of the Celestial Empire with a respect for the country which he represented."[97] In 1795 he was sent on a confidential mission to Italy; and from November 1796 to November 1798 he was Governor of the Cape of Good Hope, then newly captured from the Dutch. "There is no praise," says Lord Melville, "to which he is not entitled on the score of his government of the Cape." All his nerve and tact were called forth in 1797 by an attempted mutiny of the British fleet in Simon's Bay, following the news of the mutiny at the Nore.
Impaired health obliged him to give up this, his last official post, and return home. The Union gave him unbounded satisfaction: writing during the negotiations, he said: "I bow with admiration and respect to those by whose wisdom this great and important object has been brought so near to its completion. Considering many things that have happened in my time, painful to recollect and invidious to mention, I little imagined to see this happy day. Thank God! I have seen it. I thank the Father of all mercies that he has been graciously pleased to prolong my days to this auspicious period. The measure before us has my dying voice. It will annihilate the vain hopes of a vain insidious foe from without, and, I trust, will contribute to defeat the projects of a dark and treacherous enemy within." His last years were passed in retirement at Chiswick; his enjoyment of the society of a large circle of eminent men being lessened by severe sufferings from gout. He died, childless, 31st March 1806, aged 68, and was buried at Chiswick. In 1792 he had been created a Viscount; in 1794 an Earl; and in 1796 a British peer. His features were regular and well proportioned, his countenance open, placid, and agreeable. He possessed all the dignity of the " old school," without its stiffness, and retained it in his dress, which he did not materially alter for the last forty years of his life. (Ref Clancy; Tooley; M&B)